Presentation of the Annual Report for 2022 - Racist Violence Recording Network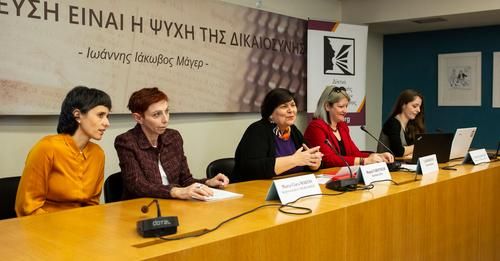 @ UNHCR/Socrates Baltagiannis
Racist Violence Recording Network - RVRN
Press Conference on 2022 Annual Report
Racism and targeting of human rights defenders:
Cracks in victims' safety and sense of justice
Athens, 6 April 2023
The Racist Violence Recording Network (RVRN) held today a Press Conference to present the results from the recording of violent incidents with racist motive during 2022. This is the eleventh Annual Report published by the Network, capturing the quantitative and qualitative trends of racist violence in Greece.
During January-December 2022, RVRN recorded, through interviews with victims, 74 incidents of racist violence.
In 33 incidents, migrants, refugees or asylum-seekers were targeted due to their national origin, religion or colour. In one of these incidents, a person was targeted both due to national origin as well as sexual orientation and gender identity.

In 1 incident, the target was Roma Greek citizens (ethnic origin).

In 2 incidents, a mosque and a Holocaust memorial were targeted.

In 38 incidents, the targets were LGBTQI+ individuals as well as human rights defenders, due to their connection with the LGBTQI+ people/persons. In this context, RVRN has recorded incidents of domestic violence, as well as intra-school or intra-university attacks, targeting LGBTQI+ people.
In 22 incidents, the victims stated that they have experienced racist violence in the past. In 39 incidents the attack was carried out by a group, while in 28 incidents only one perpetrator was reported.
Regarding the perpetrators' profile, according to the victims:
In 41 incidents, there were civilians involved.

In 15 incidents, the perpetrators were law enforcement officials. Based on the victims' testimony, almost half of these incidents took place near the country's borders.

In 7 incidents, the perpetrators were public servants.

In 2 incidents, the perpetrators were employers in agricultural works.

In 6 incidents, the perpetrators were identified by the victims as members of racist violence groups.

In 3 incidents, the perpetrators were identified as mixed groups of citizens and members of racist violence groups.
Regarding the victims' access to complaints mechanisms:
In the majority of incidents (44), the victims said that they would not take further action. Main factors seem to be the fear for secondary victimization or re-victimization.

Fourteen (14) incidents had been reported to the police at the time they were recorded by RVRN.

Criminal procedures were initiated for 5 incidents.

In 4 incidents, the victims said that they had not reported the incident to the police but intended to do so.
The above shows that underreporting of incidents of racist violence continued as a trend for one more year. RVRN stresses the need for the State to take immediate action to address secondary victimization, and violence in general, so that victims and targeted communities can have more trust in the authorities. In addition, the competent authorities should prioritize the creation of an effective support and protection system for victims of racist violence.
 Based on the RVRN findings for 2022, the key trends are the following:
Existence of racism against refugees/migrants and LGBTQI+ individuals in the context of managing their daily lives (i.e. incidents of racist violence and/or racist behaviours during the daily activities of the victims, e.g. in public transportation, in the neighbourhood etc. These incidents are usually of low intensity and their perpetrators are individuals.)

Occurrence of incidents of organised racist violence, although to a limited extent, against refugees/migrants and LGBTQI+ individuals.

Targeting of human rights defenders, within Greek territory, especially those operating at the borders.
Professor Maria Gavouneli, President of the Greek National Commission for Human Rights (GNCHR) and Maria Clara Martin, UNHCR Representative in Greece, opened today's event while Garyfallia Anastassopoulou, Assistant Coordinator of the Network, presented the Report's main findings. Eleftheria Koumandou, journalist, moderated the discussion that followed and evolved around the topic of the targeting of human rights defenders.
Key speakers included the following RVRN members' representatives: Chrysanthi Zakharov (Greek Council for Refugees) Elli Kriona-Saranti (HIAS Greece) Alexandra Panagiotakopoulou (Colour Youth | LGBTQ Youth Community of Athens) and Anna Apergi (Transgender Support Association). The panellists highlighted the context of targeting human rights defenders that RVRN has recorded regularly, pointing out the escalation seen during 2020, when the intensification of violence against defenders was recorded at the country's borders, as well as the targeting through smear campaigns or criminalization of their actions, as monitored during 2022 and reported by international and European bodies.
The RVRN 2022 Annual Report can be found here in Greek. The English version will be available during the next weeks.
Find here the Press Release in a PDF file
______________________________________________________________________________
RVRN is coordinated by UNHCR in Greece and the Greek National Commission for Human Rights and is comprised of 52 Non-Governmental Organizations and civil society bodies, as well as the Greek Ombudsman and the Migrant Integration Council of the Municipality of Athens, as observers. Members: Aitima, Solidarity Now, Antigone -Information and Documentation Centre, University of Aegean Anti-Racist Observatory, Arsis, Doctors of the World (MdM), Amnesty International, Network for Children's Rights, Network for Social Support of Refugees and Immigrants, "Pleiades - Hellenic Action for Human Rights", Hellenic League for Human Rights, Hellenic Red Cross, Greek Council for Refugees, Greek Forum of Migrants, Greek Forum of Refugees, Human Rights Commission of the Bar Association of Rhodes, Positive Voice, Medical Intervention, Caritas Athens, Caritas Hellas, Centre for Research on Women's Issues "Diotima", Center for Life, "Babel" Day Centre, SYNYPARXIS (Coexistence) – ECUMENICAL REFUGEE PROGRAM, Network for the Support of Refugee and Migrant Rights (Patras), World Without War and Violence, LATHRA? - Solidarity Committee for Chios refugees, METAdrasi, Rainbow Families, Group of Lawyers for the Rights of Refugees and Migrants, Group of Lawyers for the Support of Refugee and Migrant Rights (Thessaloniki), Homosexual and Lesbian Community of Greece, Association of Afghans United In Greece, Association of Social Workers of Greece, Greek Transgender Support Association, Faros tou Kosmou, Refugee Support Aegean, Act Up Hellas, ASANTE, Colour Youth - LGBTQ Youth Community of Athens, Generation 2.0 RED, HIAS in Greece, HumanRights360, Melissa Network, PRAKSIS, A21, Simeio for studying and fighting the far-right, Lesvos Solidarity, Steps, Legal Centre Lesvos, Aegean Migrant Solidarity | Christian Peacemaker Teams, ELLAN PASSE, International Rescue Committee (IRC).
Photos: @ UNHCR/Socrates Baltagiannis